Technology is an integral part of your business. You rely on it to stay connected with and provide services to clients, interact with your team, and perform daily tasks. Maintaining that infrastructure is a full-time job, and one that most small and mid-sized businesses just don't have the resources to do effectively. Employing in-house IT personnel is an expensive luxury, and relying on your staff to handle IT issues on top of their own responsibilities has the potential to cause even bigger issues.
If you're not staying on top of the health and integrity of your IT infrastructure, your business is at risk for cyber attacks, hardware and system failure, lost productivity, and a whole host of smaller problems that can easily snowball into something much worse. But when your staff can't keep up with your IT needs, and an in-house solution isn't in your budget, you're left with two options; relying on your staff and hoping for the best, or outsourcing your IT needs to a Managed Services Provider.
Partnering with a Managed Services Provider (MSP) like Centralized Solutions Technical Services offers your business the tools and support needed to keep your IT infrastructure running reliably and efficiently. Managed Services are essentially an agreed upon set of processes and best practices that are put in place and supported by a team of knowledgeable IT professionals. The result is a better end-user experience, and a lower overall cost.
More than simply keeping an eye on your network in case a problem occurs, Centralized Solutions Technical Services will actively work with you to make sure that your business is getting the most out of your technology, and ensure that your technology will always be there when you need it.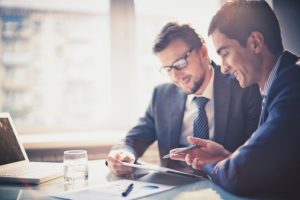 When it comes to network security, having the right firewall and antivirus and antimalware software is only the first step. Patches and updates need to be installed regularly to prevent potential vulnerabilities. An MSP can ensure that your security measures are consistently up to date, in addition to monitoring your network for potential security threats. The number of cyber attacks affecting small and mid-sized businesses is continuing to rise, with devastating results. Any precautions put in place to protect your business from these threats need to stay current to be effective.
Just as problematic as a security breach are system, hardware, and network failures. Anything that results in downtime can cause a loss of productivity, and a loss of profits. Centralized Solutions Technical Services can help maintain your onsite hardware and devices, providing upkeep and repairs where needed as part of your support package. Break/fix services tend to come with a hefty price tag, and are not always available on your schedule. Having a service contract with a team of technicians you know and trust will allow your business to get back up and running quickly, without your wallet taking a hit in the process.
In addition to onsite maintenance, your MSP can help you budget and implement hardware or software upgrades, and handle the installation process. Investing wisely in your IT infrastructure will save you money in the long run, and having expert advice from someone who knows the ins and outs of your unique business will help you make smart choices every time. By having professionals take care of the installation process for you, you'll benefit from a faster setup process that minimizes disruption and downtime, and a guarantee that the job will be done properly the first time, with all of your important software and applications ready to go.
Effective IT management extends past your workstations. Proper storage and security for your business' important data is vital. This requires reliable servers that your data is routinely backed up to. The setup, configuration, and ongoing maintenance of your business' servers and their various components is something best left to professionals.
With options that include onsite hardware and virtual hosted servers, ensuring that these backups are being used consistently and effectively will provide your business with insurance against data loss. In the event of a cyber attack, hardware failure, or even simple human error that causes your business to lose access to your important data, these backups can be used as part of a Data Backup and Recovery plan to restore access quickly. Regular testing of these recovery measures is another MSP service that your business should be taking advantage of.
The benefit of partnering with an MSP, like Centralized Solutions Technical Services, to take care of your business' IT needs is just that – forming a partnership. Relying on a break/fix IT service provider only helps your business when there is already a problem, and the person coming to your office to provide repairs and support only knows what they were told when they were sent out on your service call, or maybe a handful of other details from a previous call.
An MSP knows your business inside and out. They know your staff. They know who your clients are, what your goals are, and what you need to continue to grow and thrive. Your IT partner is every bit as invested in your business' success as you are, and will work with you to make sure you have all of the tools and support you need. An MSP will take a proactive approach to your IT needs, focusing on maintenance and prevention to allow your operations to run smoothly and with minimal interruptions.
Technology may be a huge component of your business, but it should never be your main focus. Technology is a series of tools that allow you and your staff to do what you do best – look after your clients and provide the products and services they need. You are the very best at what you do, so doesn't it make sense to partner with someone who is the very best at what they do to help you achieve your goals?
Centralized Solutions Technical Services will take care of all of your business' technology needs, big or small, simple or complex. We will make sure that you are never without the tools you need to succeed, and are never caught off guard or unprepared when it comes to IT security or a crisis situation. We offer your business all of the benefits of a complete in-house IT department at a price that will fit your budget, with no unexpected fees and support you can count on whenever you need it.
Want to learn more about what our managed IT services can do to help your business succeed? Contact us at info@centralizedsolutions.com or 844-Techassist (844-832-4277).